A Day in the Life of Summer Student Khalid Berjak
An important step for first year law students is applying for summer student positions at law firms. Getting real life work experience under ones' belt is pivotal to a legal education and to becoming a good lawyer.
Khalid Berjak, who begins his 2nd year at
UofA Law
this September, secured his summer position at
Ogilvie LLP.
Ogilvie celebrated
100 years
this summer, highlighting a long established and treasured history in Edmonton. The firm is a full-service, mid-sized practice with a reputation built on ingenuity, leadership and client relationships. Summer students at Ogilvie have the opportunity to learn from many different perspectives and points of view alongside a diverse team of highly skilled professionals.
Before a 'day in the life' could begin...
"My start date at Ogilvie was postponed by a of couple months. I was nervous because I didn't know what was happening exactly and how COVID19 would affect the legal industry. I was also disappointed. I understood of course, but I was very excited to begin and I knew that I would only have two months of working there [Ogilvie] instead of four." - Berjak (Berjak is in italics throughout).
Jumping ahead two months; Alberta is in a staged
relaunch plan
. Ogilvie too continues to move ahead, complying with
health directives
. The firm's doors are open, cleanliness and social distancing rules remain in place while the firm pivots with a changed community. And on July 2, Berjak was able to start!
"My experience working at Ogilvie during the pandemic is a lot better than what I was anticipating and was worrying about. Changes at the firm are very accommodating, safe and practical." 
A Day in the Life of Summer Student Khalid Berjak
When Khalid Berjak wakes up he thinks about basketball. He proceeds with his morning routine; healthy breakfast, coffee, reading the news, reading about basketball, shooting a few hoops, quick shower and then off to work (grabbing another coffee on the way if shops are open, i.e. covid). While driving to work, Berjak thinks a bit more about basketball.
"I'm a huge basketball fan. I also coach junior high basketball, and during my free time I enjoy playing, coaching or watching basketball!"
The second Berjak gets through the firm doors, basketball is thrown out the window (not literally). He's immediately given his first assignment of the day. He's doing a 'court run' (no pun intended); taking documents from the firm to the Edmonton Law Courts building to the Brownlee Building.
"It's interesting to see the process of document flow and filing. I'm gaining a better understanding of where materials rightly belong."
Now back at the firm, Berjak checks his emails. Several lawyers have written, asking him to do research related to a few case files. Berjak jumps on the research and detailed fact checking right away.
Lunchtime comes and goes without Berjak noticing, until he finds himself checking a fact that makes him hungry and he wonders why. He grabs a healthy sandwich (is it ever nice to have restaurants open again!) and heads back to the office. Just as he's sitting down at his desk chair, he notices someone at his office door. 'Can he work on an affidavit'. It's urgent, so the rest of the research (and probably the sandwich) will need to wait.
"I'm super busy every day and I'm really enjoying the varied experience." 
Berjak's packed day continues, he finishes the affidavit work and hands it back to the lawyer. Then, another email check has Berjak heading next to meet with one of the Ogilvie Partners. For the rest of the afternoon, Berjak shadows that Partner during hearings and negotiations.
"Intangibles can't be taught in law school. There is so much value in the subtleties of speaking with another lawyer and finding resolutions."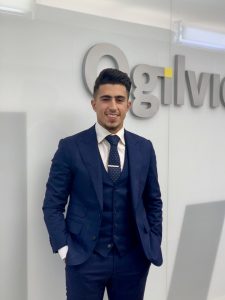 Will you be a first-year law student in September? Interested in gaining some work experience and exposure to a law firm during the summer of 2021? Please apply for Ogilvie's first-year summer student work program. The ideal candidate will have excellent communication skills, well-developed interpersonal skills, a strong work ethic, and a willingness to learn with a positive and professional attitude. Check back
here
in September for details.
If you're on social media and wish to connect with us there, we'd like that! We're
@ogilvie.law
on Instagram.