What Did the Litigator say to the Chess Player?
Check back with us at the end to find out! And in the meantime, read below to find out why we chose this title in the first place.
...
You can tell a lot about a person's character when you talk to their grown kids. Rob O'Neill's daughter, Erin Morrison, says that her Dad is her biggest champion and supporter. She loves and admires him. Presently, they are down the hall from each other at Ogilvie LLP; Erin as an Associate and Rob in the role of firm Partner, Queen's Counsel and legal sage.
Rob is not only admired by his family, but he is also respected in the legal community for his ability in the courtroom. One of the most experienced trial lawyers in Edmonton, Rob loves the mental chess game and analysis required to get the best result for his clients.
During the infancy period with a client, Rob sees his primary role as risk assessor. He knows that very few matters actually go to trial. Clients may feel the need to fight it out to prove something but that's rarely in their best interest. Rob mitigates the unknowns of moving forward with a trial. Less than three percent of matters go through to trial. As much as Rob loves the on-your-toes demands of the courtroom, he enjoys re-focusing clients with his skill in conflict resolution. The secret is knowing the ins and outs of your position – especially weaknesses. That way you can foresee the strategy of the opponent.
When speaking with Rob, the correlation between role of litigator and master chess player is clear. The concept of outflanking your opponent requires skill and the ability to think ahead. Unlike chess, however, legal disputes rarely produce a clear winner. Working to create the best result possible for his client is what motivates Rob day in and day out.
Rob and his wife Ursula instilled the love of games and puzzles in both their daughters Erin and Megan. The girls were still in elementary school when Rob started seeing them pull ahead strategically and beat him. It couldn't have made him happier. As a young lawyer, Erin is already impressing clients.
Ogilvie client Erin Turnell recently provided a five star review on Google and had this to say:
"I had an amazing experience with Erin Morrison. She went above and beyond to explain everything to me that I was unsure about. Made me feel comfortable and calm during the whole procedure. I would absolutely recommend her to anyone who may need a lawyer in the future".
Fun was very much a part of the O'Neill family's history which included the tradition of trips to Disneyland and a commitment to volunteerism with the Edmonton Valley Zoo. Rob's license plate says Hakuna Matata which we know means no worries. For Rob, being part of the incredible team at Ogilvie LLP with his wife of 31 years by his side and two accomplished adult daughters means he is living the good life.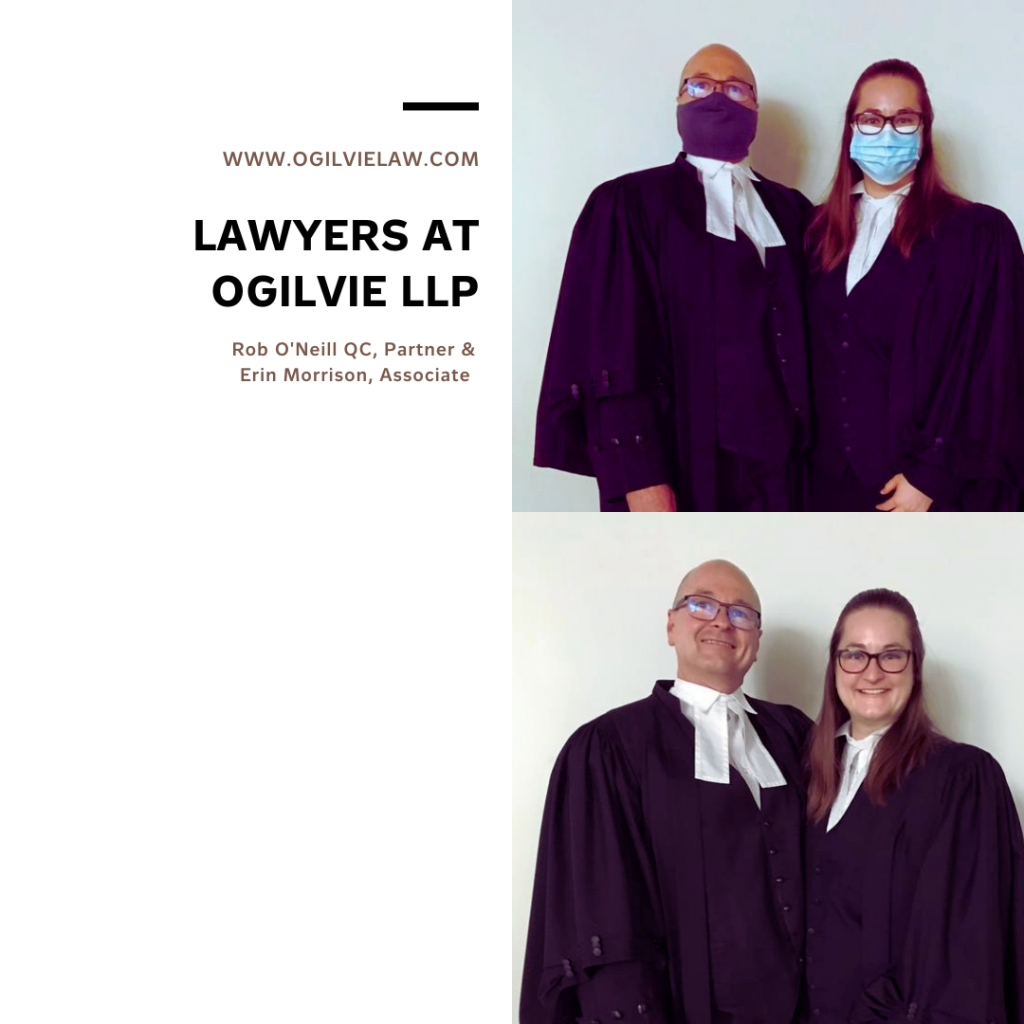 p.s. Think you know the answer to the question in the title? Let us know on Twitter @LawOgilvie or on Instagram @ogilvie.law. We will be posting the answer on our social profiles next week!