Pork chop lot zoning: a legal perspective
Affordability and choice.  That's what 'pork chop lot' zoning could bring to builders and homeowners in the City of Edmonton.
Although still in the trial stage, Ogilvie lawyer and partner Bryce Milliken, says that "in Edmonton, we have large lots that consumers don't really need or want, but those large lots carry a very hefty price. Pork chop lots could provide homeowners the ability to subdivide in new ways. Existing older neighborhoods could be revitalized and more people could afford homeownership."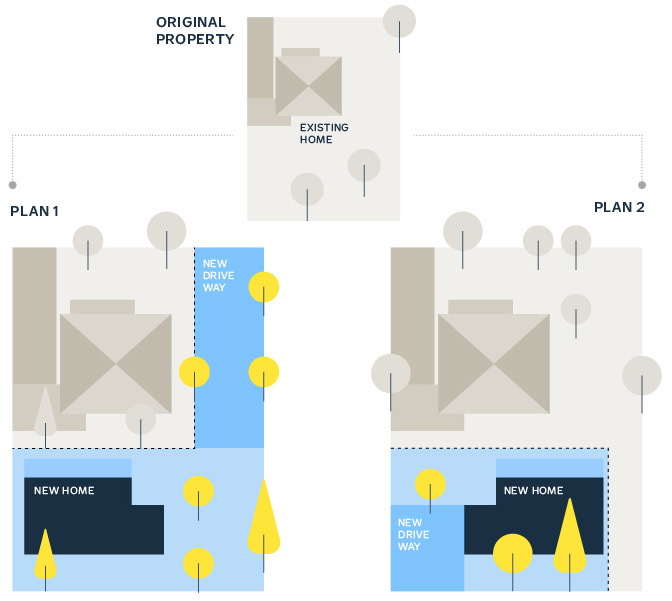 Also known as flag or hammerhead lots, these lots are used to subdivide properties from front to back, rather than split down the middle, and allow for housing to be built in backyards. This zoning test allows select homeowners to cut out and sell a portion of their lot, creating two properties where there once was only one. "This isn't about tearing down and building a new mansion," says Milliken. "Pork chop lots would help create a solution for homeowners or builders looking to redevelop for market affordability."
How to determine if your property is eligible to subdivide
If you're looking to redevelop your property in some way, Milliken recommends you engage key professionals early in the process so you can get your questions answered and understand any issues allowing you the most amount of time to deal with them.
Contact your lawyer and surveyor to see if your property is eligible to be subdivided. Eligibility is based on a number of factors, including the orientation of your property, how much frontage you have, and how much property is dedicated to the main and second subdivided lot.
Describe your vision for your lot. Your lawyer can provide you with options to make the best use of the property, in order to be as a profitable and marketable as possible.
Work with your lawyer on the subdivision process and paperwork, including development permits and required variances. This might involve a hearing with the subdivision and development appeal board.
What other options do I have?
Since porkchop lots are still in the trial stage, they may not be generally available. There are additional options you and your lawyer might also consider:
Redevelopment - A teardown and rebuild project. If your lot is the right width, you could subdivide into two skinny lots.
Condominiumization - Redeveloping a property, where allowed, to create multi-unit living space.
Why are new build forms a priority?
"Our priorities are always to advocate for affordability of home ownership in Edmonton, and to provide consumers with choice," says Milliken, who is incoming president for the Canadian Home Builders Association, Edmonton region.
Different build forms like these are exactly what the association works towards. The ultimate goal? To have more homeowners purchasing the type of home they want at a price that's affordable to them.
Why is working with a lawyer the first step to a successful project?
Ogilvie has some of the most experienced lawyers in the city dealing with residential and commercial development.
Our firm understands and we are heavily involved in the housing industry. Ogilvie has extensive knowledge and access to information, as well as strong connections within the industry, to provide a value to our clients that other lawyers simply could not.
He notes that the Ogilvie real estate practice group advises all sorts of development clients. From home building to land and condo development, "we are a one-stop-shop, providing a breadth of experience in unique and emerging areas of real estate projects."